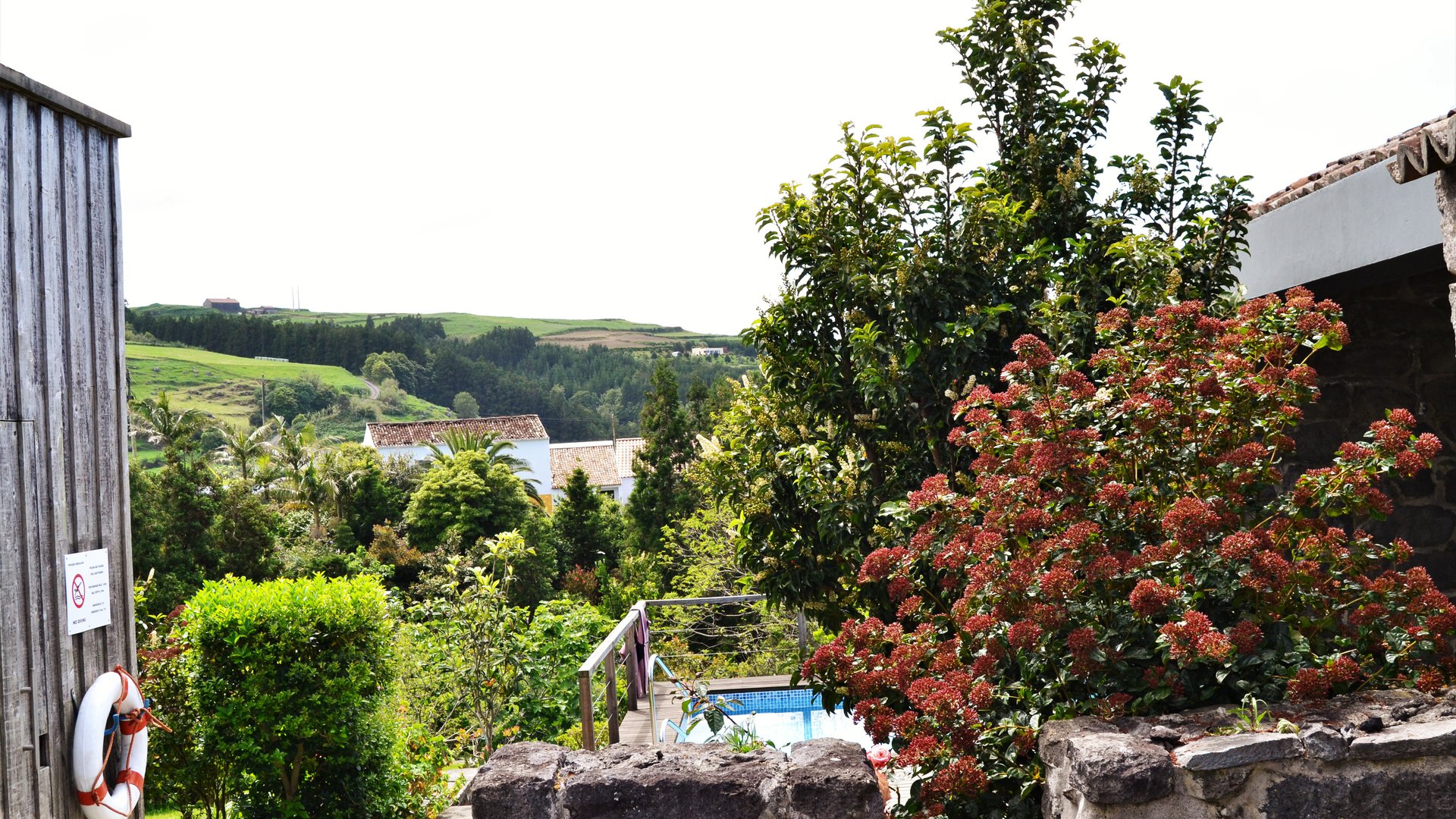 Sustainability
Tradicampo's success is largely due to the passion that drives us and the dedication and care with which we approach all areas and details of the service. But the main reason that allows us to provide you with an unforgettable experience is the island that sustains us. It is our responsibility to sustain it as well.
Tradicampo
Sustainability
Tradicampo's success is largely due to the passion that drives us and the dedication and care with which we approach all areas and details of the service. But the main reason that allows us to provide you with an unforgettable experience is the island that sustains us. It is our responsibility to sustain it as well.
The richness of the ecosystem of São Miguel island, the abundance of Laurissilva forest, the fauna that still persists there, the breathtaking landscapes and the traditions that maintain the island's identity and character are especially present in this area of Nordeste, which makes this place truly unique.
During the development of the Tradicampo Project at its various stages, all legal requirements and norms inherent to tourist activity were taken into account as well as the mitigation of the environmental impact associated with its management.
Learn more about our environmental policy, sustainability plan and Eco-Labels.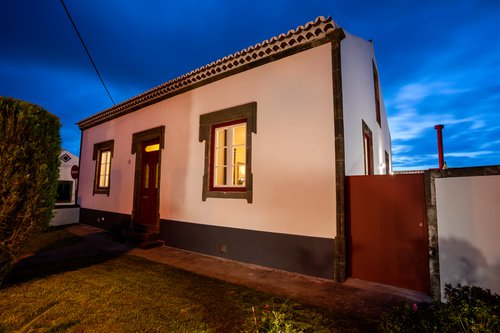 Tradicampo Eco Country Houses, provides accommodation, tourist animation and rural tourism services. Its Country Houses, located in the municipality of Nordeste represent the business rural tourism area.
Through Tradicampo's Project development and through all several phases, such as building construction projects, renovation works of buildings and acquisition of equipments essential to business, not only the legal requirements and norms inherent to the tourist activity were taken into account, but as well the mitigation of the environmental footprint associated with its management.
However, in the context of sustainable tourism and intending to continuously play an active role in the preservation and rational use of natural resources, Tradicampo assumes the following commitments:
Assess and control the effects resulting from its activity in order to continuously improve its environmental performance;
Actively cooperate with the various entities involved in the territory where it operates, namely, local authorities, official bodies and environmental organizations, in sustainable development projects;
Raise awareness of its employees on environmental issues and ensure that its service providers have the necessary certifications and comply with safety requirements and good practices inherent to sustainable tourism;
To communicate its environmental policy to its customers, inviting them to be its active agents and making them aware of the existing local outdoor activities;
Disclose externally, through the available channels, its environmental commitment and all the recognition that it may generate.
Our commitment to the environment goes far beyond complying with current legislation. Therefore, Tradicampo has established, since the beginning of the project, a sustainability plan that determines a series of essential conditions within the areas that most affect the environmental footprint. This plan is administrated during the reconstruction, adjustment and operation of our accommodations.
---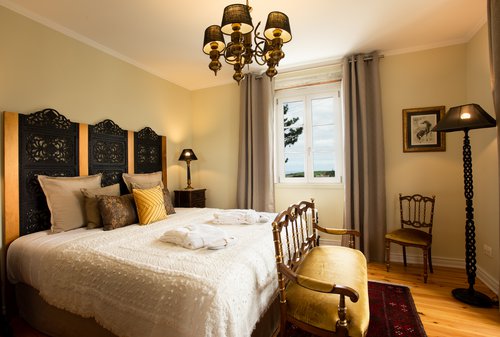 Heating
All houses have thermal insulation (ceilings, some walls and double windows). The sanitary hot water is heated through solar panels and the interiors are heated with biomass heat recuperator. These thermal features, combined with the houses' natural ventilation system, allow us to not resort to the installation of air conditioning. The swimming pool water filtering process and the additional sanitary water heating are done during the night, when the energy supply comes almost entirely from geothermal power stations.
---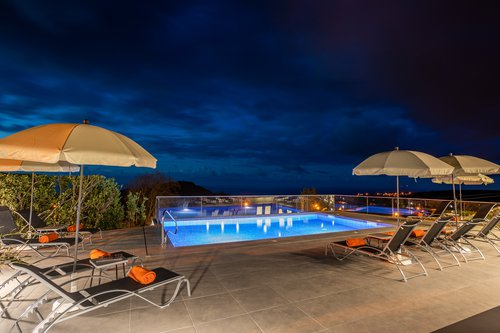 Energy Consumption
Energy certificates are issued every 5 years (Casa da Fonte = A, Casas do Pátio = B, Casa da Talha = A, Quinta das Cycas = A+). All appliances are class A or A+ and all lighting is sustained by low-consumption lamps (91% are LED – class A+). Even the lawnmower runs on unleaded gasoline. During the daily operation of accommodation units, we are careful to regularly record water and electricity consumptions and to switch off, whenever is possible, the refrigerators and all electrical equipment using the ON/OFF button. We also carry out regular checks on the correct performance of equipments according to the established maintenance plan and provide customers with information about its operation, in order to maximize its use. Quinta das Cycas resorts to the use of solar panels and a wind turbine to produce its own energy consumption.
---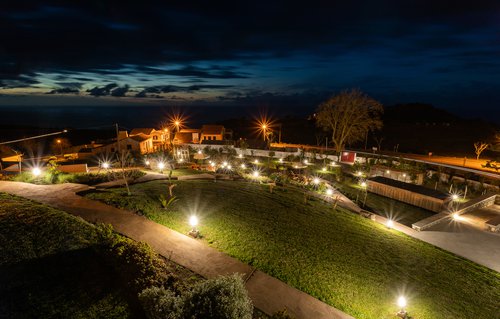 Resources and Environment
The flush toilets are set to a maximum of 6 liters and all taps are low-flow (max. 9 l/min for showers and max. 8 l/min for taps). Waste water is forwarded to public basic sanitation system, whenever it is provided (Casa da Talha). We use containers for the selective collection of waste and rainwater collection tanks to water the gardens. We promote the composting of green waste that originates from gardening. We do not use pesticides and fertilizers in the gardens, nor do we purchase equipment with CFC's.
---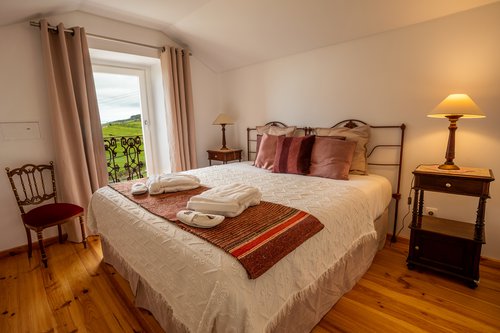 Cleaning
Towels are replaced every 3 days and bedsheets are replaced once a week, unless guests request for a different frequency. This policy is communicated to all guests and to the housekeeping staff responsible for the cleaning. We privilege the use of cleaning and disinfection products that contain biodegradable chemical agents. Smoking is not allowed indoors.
---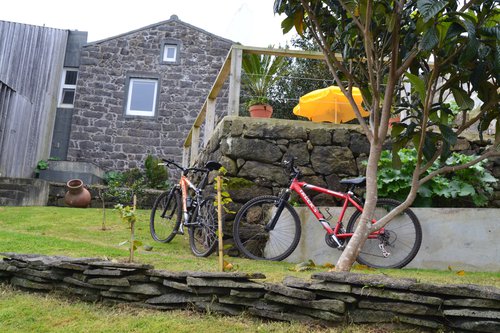 Mobility
We provide our guests with free of charge bicycles, detailed information about outdoor activities and public transportation schedules.
---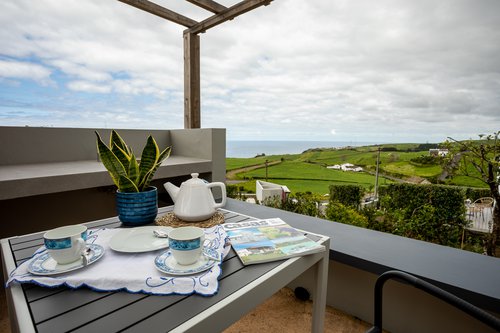 Social Responsibility
Tradicampo respects the design concept and preserves traditional architecture features present in local housing in all its accessibilities and installed equipment. Tradicampo also encourages the local economy by recruiting local staff and by acquiring and promoting local services and products to its guests. Whenever possible Tradicampo establishes partnerships with local institutions and organizations, helping them to accomplish and communicate their initiatives in order to foster their progress. Above all Tradicampo commits to reduce the environmental impact of its business operation and promotes and gets involved in environmental conscious initiatives, that aim at preserving and bring awareness to the environmental cause.
---

GREEN KEY (http://www.green-key.org) is an independent, non-governmental and non-profit environmental award that integrates Tourism organizations that value Environmental Management in their enterprises and promote Environmental Education for Sustainability . It was born in 1994 in Denmark and is now present in 60 countries, on all continents, distinguishing more than 4000 units and being considered the most important environmental award in the area of hotel structures.